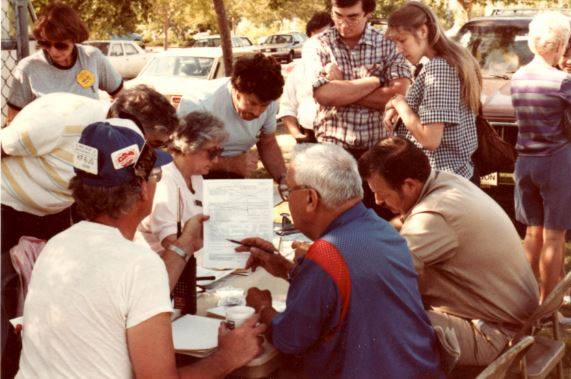 The very first GLAARG VE Session on June, 1984 at Cal Arts, Santa Clarita – it was a combined SFVARC and Santa Clarita field day,

Nobody had done this before – we were learning as we went! Very chaotic. Kind of like the first remote VE Sessions using Exam Tools!

Positive ID on John Benka KF6JG, (now SK)

The grey haired gentleman might have been Bill Bell N6GLO, (unless it's Smitty).

We think it's Judy Teeter, (lady seated at table across from Bill) and Len Drayton leaning over in the rear??? His XYL may be in the rear, (lt). Might also be the Pollak's
Other folks obscured. Alvin Teeter may be one of them.

Neither Adrienne or Dan were in the photo, although Dan may have been the one taking it. We don't know the couple in right rear I do not recognize. May have been applicants.
Photo courtesy of Dan & Adrienne Sherwood